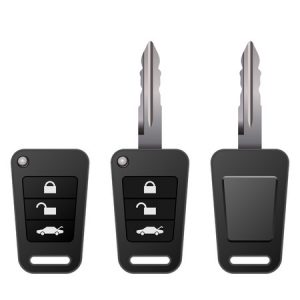 Have you ever had that scary moment when you checked all the pockets of your coat, shirt and pants only to not find your car key(s)? Losing keys happens to a lot of people– even the most conscientious ones. Though it may initially seem like "all hope is lost," there's always a way to get back into the vehicle and get it started.
Can a locksmith replace a lost car key? Yes.
Besides physically losing a key– not knowing where it went– there are other reasons you might need a locksmith to replace a key. Maybe it's no longer functioning. Did it snap, bend or break? Is it a high-tech coded key whereas the code became damaged? If it's a key with a battery, what if the battery died?
If and when you need to replace a lost or damaged key, here are some things to tell your locksmith…
Vin Number
First, find out the VIN number of the vehicle. It's usually printed somewhere on the dashboard or door of the vehicle. You can also find the VIN number on the vehicle's title and/or on insurance paperwork.
Make and Model
Next, you should know the specific make, model and year of the vehicle.
"Programming" It
A locksmith should be able to make you a replacement key. In some cases, with today's modern key fobs, you might need to take it to a dealership to "program it." Sometimes replacement fobs are only made available through the manufacturer, with ordering it taking a week or two to "come in."
Dealing with dealerships can get expensive. Any chance you can get a replacement key from a locksmith, take it because it'll be the less expensive, quicker option.
In Appleton-Fox Cities, JC Security is the professional locksmith to call regarding key replacements. From dealing with vehicle lockouts to key generation and duplication, JC Security is your full-service locksmith. Other services JC Security handles include residential/commercial lockouts, safe lockouts, master key services, home and business re-keying, lock repair, high security key cutting, and keys for boats, campers, ATVs, and motorcycles. Emergency services are offered when available. Please call JC Security, which is open for business Monday thru Friday 9am to 4pm, at 920-716-4449.